Upcoming Schedule
Acoustic, Pop, R&B
Thursday, November 30th @ 5:00pm
11/30 @ 5:00PM
Alex Elisabeth is a full time versatile performer who entertains audiences throughout Southern California. Her passion for vocal performance spans multiple music genres from classical, pop, R&B to country and rock. She sings acoustic pop/soul cover songs by artists such as Adele, Amy Whinehouse, John Legend, Michael Jackson, Beyonce, Lady Gaga, Ed Sheeran, Bruno Mars, Elton John, Elvis Presley, Maroon 5, Andrea Bocelli, Celine Dion, and many more. She is also versed in old Italian and Spanish Bel Canto. With her powerful voice and beautiful heart, Alex has a way of personally connecting with her audience and will always make you feel special. From living rooms, to weddings, to concert halls, she will tailor the sets to fit the venue. Always professional, and reliable, Alex provides her own PA system and bring her own instruments including guitar and piano. She can also bring additional musicians if needed. She is based in San Diego, and is also willing to travel further if accommodations are provided.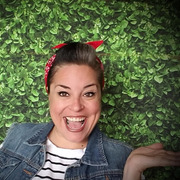 Pop, Acoustic, Rock
Friday, December 1st @ 5:00pm
12/1 @ 5:00PM
Marcela sings as richly in Spanish as she does English, covering all of our favorites from the 60′s (Elvis, Johnny Cash, etc….) up to today's hits by well known artists such as Amy Winehouse and Bruno Mars. It's what she was born to do, and she's the first to say, "Who knew"! Whether your music needs are for a Corporate Event, a Wedding, a Private Party or a Life Celebration, Marcela promises to deliver exceptional, musical entertainment that everyone will enjoy!
R&B, Rap/Hip-Hop, Reggae/Island
Saturday, December 2nd @ 5:00pm
12/2 @ 5:00PM
Music is life and I'm the life of the party. I grew up listening to the 1990s-2000s Era of music and around friends who are DJ's. They inspired me to be the DJ that I am today. I am a genre specialist, open-format and performs in various venues. Specializes in Hip-Hop, R&B, Classics, Top 40's and Chart Music. I have always been open minded to music for a wide variety of audiences and events. My ability to read the crowd, naturally raises the energy level of the room. Hard to put into words, but music drives me and I enjoy connecting with people through the art of DJing. Just a little bit about my DJ background. I used to be one of the resident DJ's at the Hard Rock Cafe in Downtown SD. I was also the resident DJ at Swami's Café and played a couple times for Altitude and STK Rooftop. I've done over 50 Weddings and served as an MC. I've always made certain the bride and groom are relaxed and guided seamlessly throughout the event.
Wednesday, December 6th @ 5:00pm
12/6 @ 5:00PM
Kieler Avery is a Singer / Songwriter / Musician / from Southern California. She has been steadily performing, as a featured solo musical entertainer, throughout San Diego, charming audiences with her distinctive vocals and stage presence. Her sound has been compared to, Adele, Meghan Trainor, Taylor Swift and her musical inspiration Tori Kelly. Noted for her beautiful vocal arrangements from sweet ballads, to upbeat pop and crowd pleasing sing a longs, accompanied by acoustic guitar and keys. She covers a variety of genres and artists from Dolly Parton to Queen appealing to audiences young and old. Perfect for events looking for an emerging artist who plays a mixture of original and cover music. Restaurant/bar, wineries, breweries, private and corporate engagements. In 2021 Kieler released two original songs, 'Antisocial' and 'Still Miss You', followed by her debut EP 'Punchline'. Available now on all music streaming platforms. 'Punchline' was nominated 'Best Pop Album' by the San Diego Music Awards. She recently released a new single 'Think of Me', March 2022. She has been a featured artist at: Rock the Park, PETCO Park Sequan Stage, Queen Bees, NOVO Brazil Brewing, Ramona Ranch Winery, The Brew Bar, Carlsbad Flower Fields, The Roxy Encinitas, Campland By the Bay Cantina, The Holding Company, Town and Country Resort - Monkey Bar. Recently Kieler Avery has been featured on local and national TV and Radio talking about and sharing her music. Check out her interviews at https://kielermusic.com/music.
Wednesday, December 6th @ 6:00pm
12/6 @ 6:00PM
Venue Details
Address:
500 Hotel Cir N, San Diego, CA
Phone:
619-291-7131
Website: