Upcoming Schedule
Sunday, August 14th @ 5:00pm
8/14 @ 5:00PM
Cole Sutliff (aka Lefty_Licks) is a left-handed acoustic/electric guitarist, vocalist and multi-instrumentalist with over 17+ years of experience. Frequently found at local San Diego breweries, Cole loves to put his spin on a wide variety of different rock artists from The Eagles to The Red Hot Chili Peppers and country artists like Johnny Cash to Darius Rucker. Looking for a more pop-rock chill vibe? How about some John Mayer or Jack Johnson. And not to worry, there's always room for a nostalgic love ballad! Cole's strength is in his ability to connect with the audience by crafting dynamic setlists and building "the beat" getting everyone singing and up on their feet! His signature sound is built through his rich baritone voice & tasty guitar playing focused on melodic chords, soloing, and percussive drive. All of this complimented by a top of the line PA system. He utilizes a looper pedal, vocal harmonizer, and stomp box in his act to sweeten the deal - it will truly sound like multiple artists up on one stage! His sound is not like your typical "solo acoustic player". Specialty genres include classic rock (60's-80s), 90s rock, country rock, folk rock, pop rock and singer songwriter styles. Available for all types of gigs, and capable of playing requests! Cheers!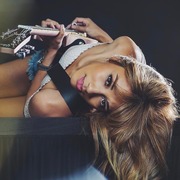 Pop, Rock
Saturday, August 27th @ 5:00pm
8/27 @ 5:00PM
Glam rock and bubblegum pop come together in Shaynie Rhoads, glitter-clad headbanger from San Diego, California. She spent her youth playing in different metal bands and frequenting local shows, and began writing her own music during her college years as a classical guitar student. As a recording artist, Shaynie releases all of her music independently. She enjoys playing all over San Diego and has been seen at En Fuego, Belly Up, The Roxy, Priority Public House, Orfila Vineyards, Pour House, Helia Brewing Company, Garden Coffee, The Hideout PB and more. Her acoustic cover sets include music by The Rolling Stones, Led Zeppelin, Guns n Roses, Stone Temple Pilots, Blink 182, Sublime, Maroon 5, Britney Spears and Miley Cyrus. When she is not writing, recording or performing, Shaynie teaches out of the music school she owns and operates on the San Diego coast. She is also in the process of releasing her next single, which she has been recording in Oceanside.
Venue Details
Address:
14055 Midland Rd, Poway, CA
Phone:
858-883-4645
Website: