Upcoming Schedule
Acoustic
Wednesday, December 6th @ 5:00pm
12/6 @ 5:00PM
Keni Yarbro, is a gifted vocalist, musician, songwriter from San Diego who has an exceptionally wide vocal range and style. He has the uncanny ability to sound like many of the artist he covers, while at the same time making each song his own. It's not very often you hear an acoustic soloist covering such artist as Steely Dan, Al Jarreau, Steve Perry, Boz Skaggs and Stevie Wonder to name only a few. Always thinking outside the box, Keni prides himself in being unpredictable when it comes to his performances. Comments often heard from many who have had the pleasure of hearing him are, "we love your song selection" to "Wow, no one else plays that" and "you nailed it!!!" ​
Jazz, Oldies, Soul
Thursday, December 7th @ 5:00pm
12/7 @ 5:00PM
Hello! my name is Marelle. I am a 23 year old solo musician with a focus on Jazz, Soul and Pop. I accompany myself with guitar and often compared to Alicia Keys and Norah Jones. With many successful gigs under my belt, my goal is to bring great music and energy to your event. I hope to work with you to create and an unforgettable experience.
R&B, Pop, Acoustic
Friday, December 8th @ 7:00pm
12/8 @ 7:00PM
Orion Song is a singer/songwriter from San Diego, CA. Originally writing acoustically off of a baritone ukulele, he has dived into the old and new world of Hip Hop & R&B and all of its relative sub-genres with healing intentions. Not conforming to one genre, he draws inspiration from Justin Timberlake, Nujabes, Craig David, and Korean R&B. In September of 2020, he released his first Pop single "Electricity". He is available for vocal or instrumental live looping gigs.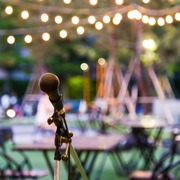 Saturday, December 9th @ 7:00pm
12/9 @ 7:00PM
Sunday, December 10th @ 11:00am
12/10 @ 11:00AM
Venue Details
Address:
1540 Camino del Mar, Del Mar, CA
Phone:
858-386-1336
Website: