Upcoming Schedule
Latin/World
Tuesday, November 29th @ 5:00pm
11/29 @ 5:00PM
Born and raised in Rio de Janeiro, Brazil, Richard Miller has performed extensively throughout the United States and Latin America in concerts that explore his roots in Brazilian choro, American Jazz, and classical guitar. Recent credits include: a special performances for Pope Francis and for President Obama; music director for the Kennedy Center's production of Olivério, A Brazilian Twist, a residency at Club Bonafide in New York Cityl; New York jazz clubs such as Iridium, BB Kings, Cornelia Street Café, Zinc Bar, and DROM; concerts and lectures at Texas Southern University, University of Florida, Georgetown University, Baruch College, College of Charleston, James Madison University, UPenn, NYU, Middlebury College, among many others.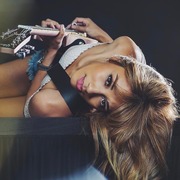 Pop, Rock
Sunday, December 11th @ 4:00pm
12/11 @ 4:00PM
Glam rock and bubblegum pop come together in Shaynie Rhoads, glitter-clad headbanger from Oceanside, California. She spent her youth playing in different metal bands and frequenting local shows, and began writing her own music during her college years as a classical guitar student. As a recording artist, Shaynie releases all of her music independently. She enjoys playing live across San Diego and has been seen at En Fuego, Belly Up, The Roxy, South O Brewing, Pour House, Frankie's and more. Her acoustic cover sets include music by The Rolling Stones, Led Zeppelin, Guns 'n' Roses, Stone Temple Pilots, Blink 182, Sublime, Maroon 5, Britney Spears and Miley Cyrus. When she is not writing, recording, or playing with her band, Shaynie teaches out of the music school she owns and operates on the San Diego coast. She is also in the process of releasing her next single, which she has been recording in Oceanside.
Venue Details
Address:
San Diego, CA
Phone:
619-546-9300
Website: