Upcoming Schedule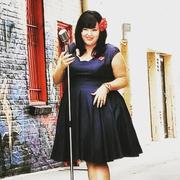 Pop, Indie, R&B
Saturday, January 28th @ 6:00pm
1/28 @ 6:00PM
The Knot Best Of Weddings 2020 Top 40 Adult Contemporary & Indie Recording Artist for Radio Charts Nationwide Celeste Barbier is a premier solo vocalist & recording artist located in Southern California, based out of North San Diego County. She performs jazz and blues standards as well as a few oldies and ballads from the 20's through 70's eras as well as a few select contemporary tunes by artists such as Norah Jones, Amy Winehouse, Melody Gardot, and Diana Krall. She also performs special songs for most of the major holidays. Celeste was classically trained at Chapman University as an opera singer and brings rich, clear, deep, soothing & sultry yet powerful contralto vocals to this vintage music. Her voice is a cross between Patsy Cline, Diana Krall, Karen Carpenter & Etta James. She covers music primarily from the early to mid 20th century including Patsy Cline, Peggy Lee, Ella Fitzgerald, Sam Cooke, Etta James, The Carpenters, Nat King Cole and so many more!! Celeste performs for weddings, corporate, public and private events and has ongoing engagements with venues like Rancho Bernardo Inn, Bernardo Winery, Vintana Wine + Dine, Flagship Cruises & Events, numerous country clubs such as El Niguel CC of Laguna Niguel, The Bridges of Rancho Santa Fe & more. She specializes in themed events particularly from the Roaring Twenties & Old Hollywood Glamour to the Boppin' 50's and 60's era of peace, love & music! Celeste is always sure to look the part as well. Her fashion is an important part of what she offers as an entertainer. She dresses in vintage inspired attire and uses a retro Shure 55 Super Deluxe Microphone or Heil Sound LED "Fin" Art Deco Microphone both reminiscent of bygone eras. She can be background music for your event or front and center and is happy to assist as an emcee for special events. She is both personable and professional and one of the easiest performers to work with which is proven by a long list of testimonials from happy clients and audiences. She has nearly 3000 fans on her Facebook Business Page a 5 star rating on Yelp & FB and is beloved throughout the San Diego community. Celeste will perform anywhere in San Diego, Riverside, Orange, & Los Angeles Counties & beyond if travel accommodations are provided.
Rock, Acoustic, Folk/Americana
Tuesday, February 14th @ 6:00pm
2/14 @ 6:00PM
Hello, and thanks so much for viewing my page! My name is Jason Graham, and I specialize in playing fun covers in a wide variety of genres, whether it be top 40, classic rock, folk or country. I have a wide variety in my set list, and can cater my shows too many different ages and styles. I have been lucky enough to travel the world playing music on cruise ships for the past few years, and am excited to make San Diego my new home. I utilize live looping to build up layers in my songs, and bring a one man band energy to all of my shows, but I can also strip it down and have a more traditional acoustic vibe if that is what the show calls for. I really appreciate the consideration, and can guarantee to bring professionalism and a fun time! Thank you!
Rock, Blues, Acoustic
Saturday, February 25th @ 6:00pm
2/25 @ 6:00PM
Eric is a pop/ rock, soul, folk & jazz acoustic guitarist and singer. He has spent the last 13 years performing in New England and since 2016, in CA at concert venues, restaurants, bars and private social/ corporate events. Tailoring performances for a successful event every time is important to him. He has a large repertoire, with a fun mix of upbeat songs across genres - from recent hits back through the past 6 decades of pop music. He also loves playing original and traditional blues with a bottleneck slide and National resonator, when appropriate. In addition to solo work, Eric has always maintained roles in many bands as both performer and music director, which helps keep his song list growing. A full time musician since graduating Berklee College of Music, Eric loves what he does. With the ability to provide his own sound reinforcement for any size venue and tailor material to any audience, Eric strives to make every gig a great one. Thanks for your consideration! Partial song list Free Fallin -Tom Petty Don't Think Twice -Bob Dylan Fire and Rain -James Taylor Norwegian Wood -The Beatles That's The Way -Led Zeppelin People Get Ready -Curtis Mayfield & The Impressions Hard to Handle -Otis Redding In The Midnight Hour -Wilson Pickett My Girl -The Temptations Sittin' On The Dock of the Bay -Otis Redding You Are the Best Thing -Ray Lamontagne Jessie's Girl -Rick Springfield Save Tonight -Eagle Eye Cherry Wonderwall -Oasis Hey Jealousy -The Gin Blossoms Wagon Wheel -Old Crow Medicine Show Folsom Prison Blues -Johnny Cash I Walk The Line -Johnny Cash Fly Me To The Moon -Frank Sinatra It Had To Be You -Harry Connick Jr. Just the Way You Look Tonight -Frank Sinatra L-O-V-E -Nat "King" Cole Brown Eyed Girl -Van Morrison Stand By Me -Ben E. King Billie Jean -Michael Jackson Cake By The Ocean -DNCE Can't Stop The Feelin -Justin Timberlake Get Lucky -Daft Punk Happy -Pharrell Williams Faith -George Michael Shut Up And Dance -Walk The Moon Tainted Love -Soft Cell I Shot the Sheriff -Bob Marley Three Little Birds -Bob Marley American Girl -Tom Petty All Along The Watchtower -Bob Dylan Breakdown -Tom Petty Brown Sugar -The Rolling Stones Come Together -The Beatles Message in a Bottle -The Police Mr. Brightside -The Killers Stuck In The Middle - Stealer's Wheel Summer of 69 -Bryan Adams Sweet Home Alabama -Lynyrd Skynyrd The Joker -Steve Miller Band OHIO -CSNY Runaround Sue -Dion You May Be Right -Billy Joel That's Alright Mama -Elvis Presley Hey Soul Sister -Train Drive -Incubus Ho Hey -The Lumineers Into the Mystic -Van Morrison Jersey Girl -Tom Waits Me & Julio -Simon & Garfunkel Evil -Howlin' Wolf Got My Mojo Working -Muddy Waters If I Had Possession Over Judgement Day -Robert Johnson It Hurts Me Too -Elmore James My Babe - Little Walter Born Under a Bad Sign -Albert King Going Down -Freddie King Pride and Joy -Stevie Ray Vaughan Hoochie Coochie Man -Muddy Waters
Venue Details
Address:
11040 Rancho Carmel Dr, San Diego, CA
Phone:
858-673-0077
Website: